Precision, beauty and perfection are the three features that define the most demanding field of dentistry, which is prosthetics. It is often compared to real art, because every smallest detail like colour or shape has a huge impact on the final effect of our smile.
The main task of prosthetics is to supplement missing teeth, but very often patients come to the clinic willing to improve the aesthetics of their smile, its colour or shape. This is a field of dentistry that requires great precision, accuracy and an extraordinary sense of beauty, so that the designed smile will fit perfectly into the facial features.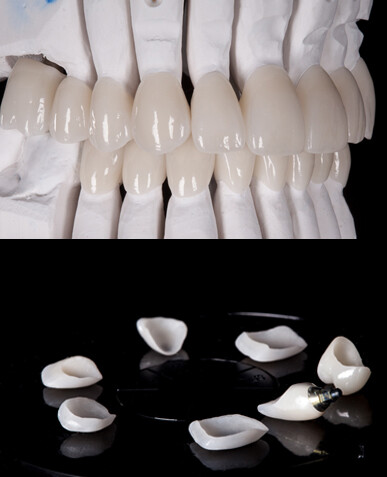 Correctly performed prosthetic work should not only meet aesthetic expectations, but above all restore the proper function of natural and healthy teeth
Thanks to our own laboratory, we can be sure that every work we do is a subtle work of art, created individually for each patient.
Prosthetic work can be divided into three main groups: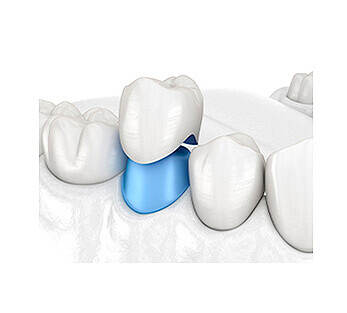 Permanent dentures – these are permanently cemented in the patient's mouth and are used to restore the morphology and function of individual tooth,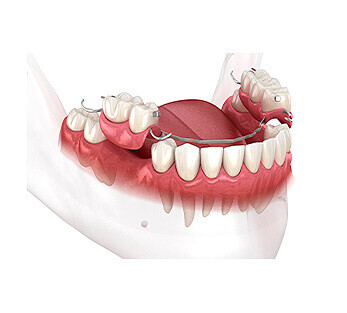 Removable dentures – these can be taken out of the mouth by patient, usually performed in the case of free-end situations,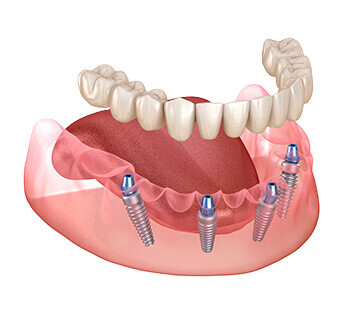 Combined works – it is a combination of permanent with removable dentures through perfectly matched retention elements, e.g. precise attachments telescopic crowns.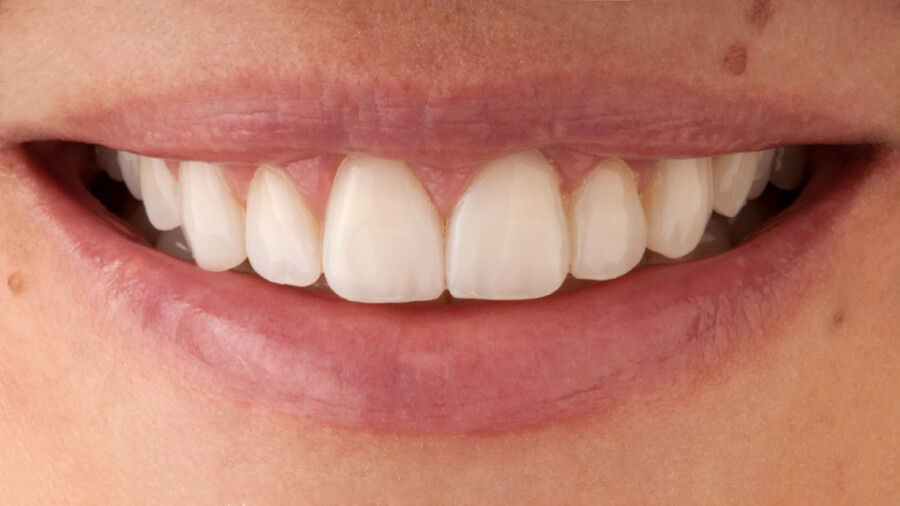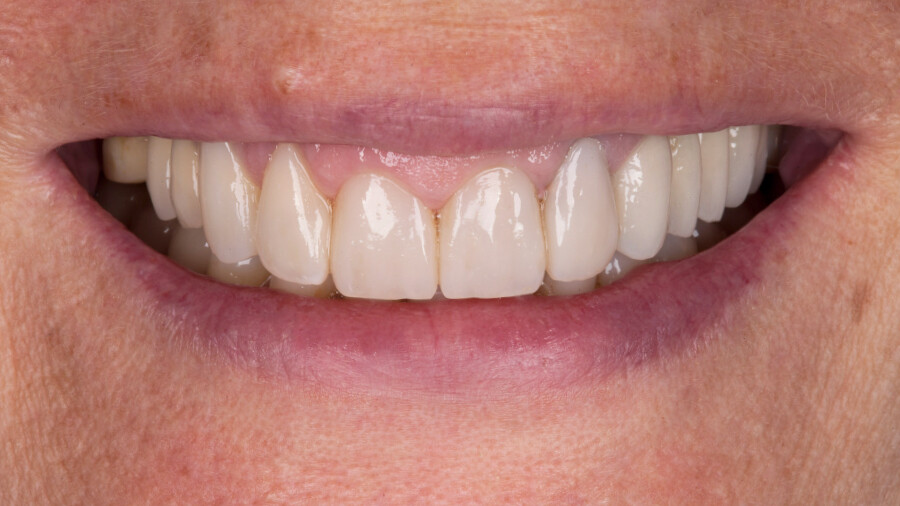 Permanent prosthetic restorations
Inlay / Onlay – used in the case of large dental defects in the tooth crown. They are an additional option for classic restorations and allow accurate reconstruction of tooth morphology (dental tubers, grooves of contact points, between teeth).
Veneer – is one of the best solutions to fulfil the dream of a beautiful smile, because it does not require much interference in the natural hard tissue of the tooth. Today's prosthetics gives us the opportunity to create veneers with a thickness of even 0.2 mm. These seemingly delicate porcelain flakes have amazing durability. By ensuring the correct occlusion, their strength is determined up to approx. 15 years.
A prosthetic crown – it is a prosthetic restoration made when there is a damaged natural tooth crown. It can have a metal foundation as well as made in CAD / CAM technology, made of zirconium dioxide. The CAD / CAM technology used in our clinic gives the most precise, durable and closest to nature imitating solutions.
Bridge – this is a permanent prosthetic restoration. A classic bridge consists of a span of crowns mounted on natural teeth or implants. To place the prosthetic bridge on the abutment teeth, it is necessary to grind them.
Removable prosthetic restorations
• Skeletal dentures are maximally reduced and comfortable for the patient to wear. Their base is made out of metal, which is covered with pink acrylic, and acrylic teeth,
• Acrylic dentures – made of high quality acrylic plastic, in which bend clamps are embedded,
• Combined denture – these are acrylic dentures reinforced with a metal mesh.
The perfect aesthetic effect, the perfect reconstruction of the shape, the perfect restoration of the tooth's functions – these are the slogans that define us
What distinguishes prosthetic works in our clinic?
Aesthetics and finishing of work are always done with attention to the smallest detail.
Interdisciplinary treatment based on close cooperation of doctors of various specialties.
Particular care to restore the proper function of the teeth.
Our own prosthetic laboratory, thanks to which we have the ability to control works at every stage of their creation and thanks to which the implementation time is reduced to a minimum.
We work using modern technologies.
We only use the highest quality materials so that you can enjoy a wonderful smile for years.
1. Why should I supplement missing teeth?
After a certain period of time, any missing tooth leads to malocclusion. This is due to the movement of the opposing teeth and the displacement of other teeth. The balance is disturbed, which may lead to further tooth loss or bone loss.
2. What is the best solution and what does the choice depend on?
The choice of the right solution depends on many factors such as:
• number of missing teeth,
• Patient's age,
• Patient preferences,
• Localization of missing teeth,
• Financial possibilities.
Check out the other services available at SmileClinic: