Use the form below and our receptionists will contact you to arrange suitable date and time of your appointment:
Our clinic of aesthetic dentistry and implantology
We are perfectionists in every field of dentistry.
Our patients are 100% sure that each procedure performed at SmileClinic is carried out in accordance with the best achievements of global dentistry.
In our approach, we go beyond the basic expectations of our patients. We give them confidence as well as spectacular effect of treatment for many years
We provide high-end treatment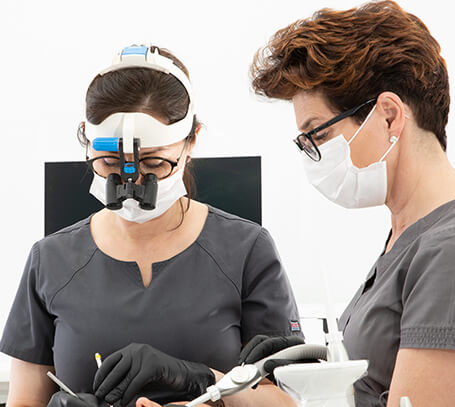 We provide high-end treatment, according to the highest international standards.
We're able to provide stable and durable treatment for patients, who couldn't be treated elsewhere. Our specialty is advanced dentistry with emphasis on dental implants. Our patients' spotless opinions about us confirm our professionalism.
We take care of every detail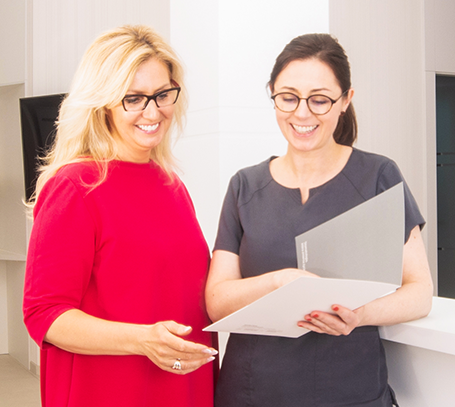 Perfection, beauty and precision are the three characteristics that guide us. They constitute the mainstay of our work at the clinic.
Precision affects the durability of treatment, providing long-lasting outcomes. Beautiful, natural appearance is crucial for our patients, and high-sense of aesthetics is our common language.
Team of world-class perfectionists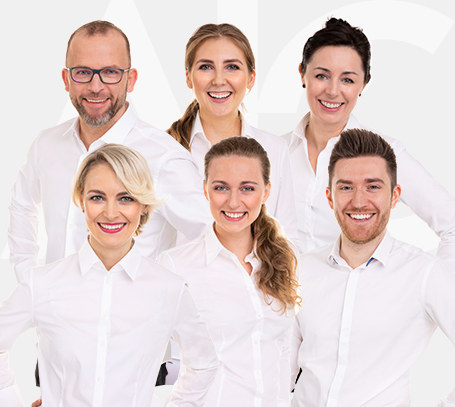 Dagmara Karczewska and Krzysztof Chmielewski are world-class specialists and prominent doctors that conduct training all over the world.
They gathered a team of great specialists who share their passion for dentistry. That passion is reassurance of top-notch dental treatment that we provide for our patients.
Properly performed diagnostic is crucial considering further effective cooperation. It is important to be aware that all symptoms can be prevented by eliminating causes.
Our clinic works comprehensively. We provide the highest quality of restorative, prosthodontic, surgical (including dental implants), endodontic (root-canal) and orthodontic treatments. Our goal is to restore proper function and aesthetics of your smile.
Beauty is of great importance for us. At the end of each treatment, the patient's smile is the greatest joy.
The task of the Advanced Implant Center is to provide biological and fully safe treatment for our patients who have lost their own teeth.
The Advanced Implant Center is both an educational and a research center. Its role is to train dentists from around the world in the field of predictable implantology. This integral part of Smile Clinic is designed to guarantee our patients a beautiful smile for a lifetime. A team of specialists, headed by a world-renown implantologist Krzysztof Chmielewski, guarantees that the course of the treatment is proper at every stage.
If you dream of a beautiful smile, we will help you to make those dreams come true. Our main goal is to restore proper function, while maintaining beautiful smile aesthetics. Providing both function and harmony will result in healthy and durable results which you can be proud of.
We know how important precision is and how it influences the long-term stability of dental treatment. We use the latest technologies to see every nuance and take appropriate steps.
Our clinic provides comprehensive treatment. We eliminate the cause, not the symptoms. This approach ensures that the effects of our treatment can be enjoyed throughout a lifetime.
If you dream of a beautiful smile, we will help to make those dreams come true. Our main goal is to restore the proper function while maintaining beautiful smile aesthetics.
Both dentists and medical doctors are broadly found among our patients. This is the best confirmation of our professionalism.
No one else is able to reliably assess our work. The trust of doctors is the best confirmation of the level of treatment we provide at SmileClinic.
Thank you for your trust!
We give hope for a beautiful smile
Our knowledge, skills and years of experience enable us to help patients, whose treatments were not undertaken by others.
We don't leave our patients without a solution to smile! We restore proper function of teeth and make dreams of a beautiful smile come true.
We treat the causes, not the symptoms
Caries, abrasion or crushing of teeth are just symptoms. We treat the cause. We work on the most modern equipment, basing on global technologies, our knowledge and experience.
In every office we have a microscope, intraoral cameras and condylographs. Everything just to treat our patients better and more effectively.
At SmileClinic values such as perfection, precision and beauty are crucial. We have created a team of high-class specialists. Dentistry is constantly developing and requires continuous learning from us. Narrow specialties guarantee high quality of our treatments. We decided to create a great interdisciplinary team, to carry out comprehensive treatments, at the highest achievable level and with the highest possible care.
Reviews from our patients
I would recommend. Top class professionalism and perfection. Surgical procedures planned and performed down to the smallest detail. Team work makes the patient feel comfortable and safe.
5 stars +1 star extra. I would highly recommend. One of the best places not only on the map of Poland, but also Europe, experience and knowledge gained around the world, and above all, great commitment and passion, keep it up, thank you and wish you all the best, I hope that I will be able to use the services of Doctor Kris and the whole wonderful team for as long as possible. Bravo!
I highly recommend. As a patient with whom Dr. Krzysztof Chmielewski performed the surgery, I felt very safe. The procedure was performed in a nice atmosphere and under very good anesthesia, given practically painlessly. All carried out very professionally. After the procedure, the healing was smooth. The lady assisting during the procedure was also very nice and professional. I rate the entire service at the highest level.
I have the cleanest teeth thanks to Magda, possibly the best hygienist in the world! Very professional and modern practice, which I would highly recommend.