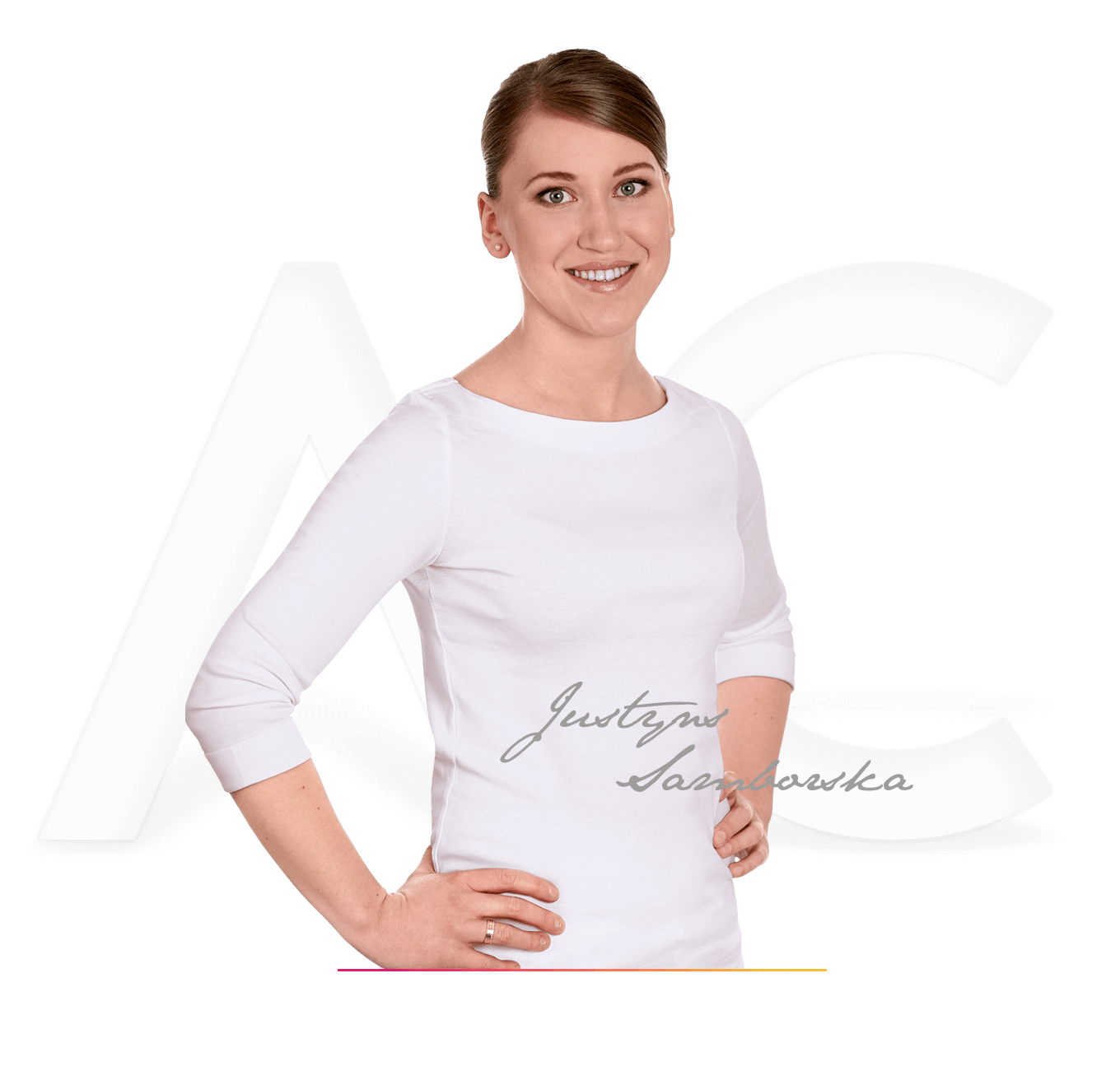 Physiotherapist. Specialist in the field of manual therapy.
In her work she uses: deep tissue massage techniques
with muscle and fascial relaxation, temporomandibular joint therapy, visceral therapy, pinotherapy, lymphatic drainage, tapping.  
It deals with the therapy of
– pain in the spine and joints and other musculoskeletal problems,
– Pain in the temporomandibular joints and other joint-related ailments, e.g. "clicking" in the joint, "throbbing" in the jaw. "Pain in the temporomandibular joint and other joint-related ailments such as clicking in the joint, bruxism, trismus, headaches, tinnitus,
– ailments related to the digestive system min. flatulence, constipation, reflux, heartburn, UC, CDS.
Completed courses:
– Deep Tissue Massage – Czubaszewski & Szałański
Deep tissue massage course
– Med Coach – Michał Chwastowski
Differential diagnosis of temporomandibular joint disorders
– Med Coach – Michal Chwastowski
Diagnostics and treatment of temporomandibular joint dysfunctions
– Reflekso Training Centre – Beata Wrona, Jakub Czaja
Complex dental rehabilitation
– Anatomy Trains Structure and Function Thomas Myers – Marcin Siedlaczek
Course Anatomy Trains Structure and Function
– Erasmus+, Silesian University of Technology, Institutio de Biomecanica de Valencia, Bydgoszcz University of Technology
Functional evaluation and advanced biomechanics in medicine and rehabilitation
– MTS Struzik Therapy
MTS Struzik Therapy pinopressure course
– Manual physiotherapy according to Bogna Listewnik
Course in techniques: musculo-fascial release, visceral, temporomandibular
– Mazur Training – Bogusław Mazur
Course Visceral Therapy part I and II
– Odnova – Dr Marian Majchrzycki
Respiratory system – treatment at the cellular level
– KINETIC Training Centre – Jaremi Sciepurko
Extended Massage Course: Classical massage, sports massage, relaxation massage, isometric massage
Services performed by a specialist
For us beauty is of utmost importance. At the end of each treatment the greatest joy is the patient's smile.